What could be more beautiful than tasty food and spectacular landscapes? So, a romantic evening in a wonderful restaurant with amazing panoramic view of the city can be a perfect beginning or the end of your trip to Toronto.
We offer you a list of the five best options for relaxing in Toronto, which combines delicious dishes, a pleasant atmosphere and picturesque views…
360 C.N Tower
It's not a secret that C.N Tower attracts more than two million tourists annually. And this skyscraper boasts of one of the most stunning Toronto's restaurants, so many people want to admire this wonderful view having a dinner there!
The restaurant follows the idea of ​​Canadian ingredients, Canadian wine and Canadian panorama. These three components successfully created an excellent image of the establishment.
360 C.N Tower offers tasty dishes of Canadian cuisine, plus a breathtaking view of Toronto from the height of 355 meters. The restaurant also provides a wide wine selection including more than 550 foreign and Canadian wines.
The establishment is ideal for a romantic date, as well as for celebrating special events. A nice bonus is the possibility of free access to the viewing platform and glass floors when paying for the complex menu.
Address: CN Tower, 301 Front St W
Operating hours: Monday-Sunday 11am-2.15pm, 4.30pm-10.15pm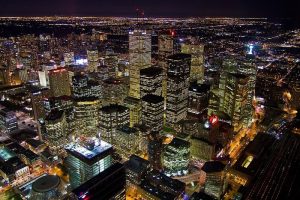 Against the Grain
Located in the Corus Entertainment near Sugar Beach, this original restaurant provides its visitors with an unforgettable culinary experience, seasoned with excellent views of the lake regardless of the time of the year!
Against the Grain is known among visitors as a 'city tavern'. This definition most accurately characterizes the establishment, because you will see there a wonderful combination of two different formats. The restaurant successfully balances between the traditional tavern menu and pretty bold tastes.
Against the Grain offers dishes that combine, at first glance, incongruous ingredients. However, thanks to the creative approach and non-standard thinking, such specialties as Chicken Coq au Vin Pot Pie and Nasi Goreng have long been the favorites of the visitors.
Speaking of beverages, there are also 16 kinds of craft and seasonal beer for any taste. For those who just want to relax with a glass of favorite wine, there is also a wide selection of famous wine brands.
Address: 25 Dockside Dr
Operating hours: Monday-Friday 11am-9pm, Saturday-Sunday 10.30am-9pm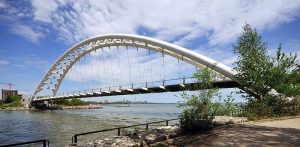 Canoe
Canoe Restaurant is conveniently situated at the top of the famous TD Bank Tower in the heart of Toronto's financial district. The establishment features a simple but elegant design, and of course a unique panorama of the city.
One of the aims of the restaurant is to unite people in one establishment by the agency of modern Canadian cuisine. All the dishes of Canoe were created under the inspiration from the diverse landscapes of Canada, its rich history and culture. All this is reflected in the amazing culinary delights of Canoe.
The chefs of the establishment work closely with local farmers and suppliers to use exclusively fresh ingredients. With over twenty years of culinary history, Canoe continues to expand its borders, celebrating the diversity of Canadian provincial cultures every day. In the menu you will find both a traditional set of first courses, snacks and salads, as well as more refined dishes: for example, crispy dumplings with foie gras or baked lamb loin.
Address: TD Centre, 66 Wellington St W
Operating hours: Monday-Friday 11.45am-2.30pm, 5pm-10.30pm; Saturday 5pm-10.30pm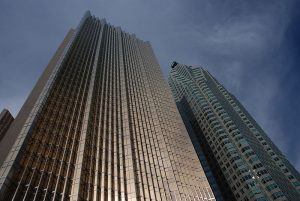 Momofuku Shōtō
If you like Asian cuisine as well as a beautiful view from the window, set off to Momofuku Shōtō for a new portion of goodies and pleasant emotions! You can successfully combine there visual aesthetic pleasure with a culinary one.
Scenic views of University Ave will become 'the cherry on the cake', which will make your meal special, and allow you not only to plunge into the world of Asian cuisine, but also to enjoy the fascinating beauty of Toronto.
The menu of Momofuku Shōtō strikes with delicious seasonal dishes showing the diversity of Ontario ingredients. If you are not too hungry and want to eat something light, just order pancakes with smoked mackerel. Also, it's advisable to pay attention to the amazing dishes of lamb and beef, and those with a sweet tooth can choose fried bananas.
Address: Third Floor, 190 University Avenue
Operating hours: Tuesday-Saturday 5.30pm-11pm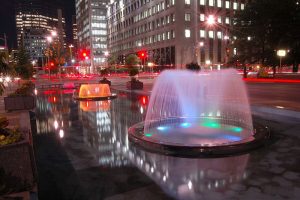 Eden Trattoria
Those who prefer Italian cuisine should definitely visit Eden Trattoria situated on Humber Bay Shores. This family-run establishment has been specializing in Italian cuisine for twenty years, and serves all sorts of pizza, pasta and other Italian dishes. The highlight of Eden Trattoria is the opportunity to create your own version of these specialties, but based on your preferences. The interior in the establishment is quite simple and really cozy, which helps to enjoy the atmosphere of comfort and ease.
The extensive menu of Eden Trattoria goes back into the past. It still supports the company's tradition of creating a personal dish to satisfy all the desires of visitors. The restaurant also serves the usual daily meals and seasonal treats. A wide selection of salads, snacks and delicious steaks will make you come back there again and again for sure!
Address: 58 Marine Parade Dr
Operating hours: Sunday-Thursday 8am-11pm, Friday-Saturday 8am-12am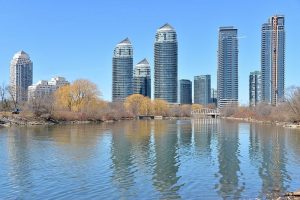 These Toronto's restaurants are an excellent option for family dinner, romantic date or even for the celebration of special events. Each of them offers outstanding dishes coupled with fantastic views from the window. So, don't miss your chance to enjoy it! By the way, you can use a rental car in Toronto for quick searching of your favorite establishment.