Giving your better half a precious gift backed by thought and truckloads of love is an unmatched feeling in itself. It brings you closer and reminds your partner that your bond is invaluable and unbreakable. From a host of gifts that you can give your man, the wristwatch is one that is guaranteed to make its way directly to his heart. When a man walks into a room full of strangers, people form an impression of him based on his clothes, his shoes and the most important telltale sign of all, his timepiece. The wristwatch being unlike any other men's accessory is a reflection of one's personality and character. It has the ability to make a strong presence for your man and do it in a way that people remember him.
You want the best for your man and when it comes to timekeeping, nothing beats a beautiful Rolex watch. Over decades, Rolex watches have become synonymous with precision, sophistication and style in the field of watchmaking. Rolex offers a wide range of watches to match every man's personality, available at leading retailers such as Ethos Watch boutiques.
Here's a list of 4 gifting options from Rolex watches collection that your better half is bound to fall in love with:
Rolex Cellini Time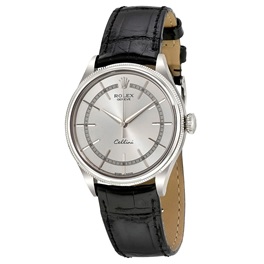 Popular for its flawless craftsmanship and timelessness, the Cellini Time by Rolex is the modern-day match for a classic man. It has found the perfect blend of age-old tradition, best-in class technology and unfaultable workmanship to give you an awe-inspiring work of beauty. With a classy black leather strap and attractive dial, the Cellini Time will make for a sophisticated addition to any formal outfit. An understated, simple yet elegant dress watch like this will remain stylish for decades to come – it's timeless.
Rolex Submariner Date
The incredibly functional yet beautiful design of the Submariner Date was quick to make it one of the most recognized Rolex watches in the world. It is inspired by the iconic Oyster case and made unique with a distinctive blue dial, now associated synonymously with the model. Its luminescent, large sized hour markers fashioned from 18ct gold and rotatable Cerachrom bezel add to its lush appeal. With a solid link Oyster bracelet and Oysterlock clasp, the Submariner Date is super comfortable to wear, even if you're wearing it over a diving suit.
Rolex Sky-Dweller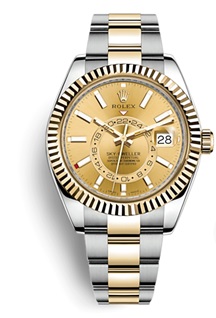 Crafted from steel and yellow gold, the iconic Sky Dweller by Rolex ticks all the right boxes, making it a quintessential collector's item. The fact that the timepiece has 11 – 14 pending patents in its name goes to say a lot about its path breaking technology and design. The champagne colored dial is strapped with a solid-link Oyster bracelet in 904L steel. Another distinctive feature about the Sky-Dweller is the inverted red triangle on top of the dial, indicating the chosen reference time – this is the time at the traveller's home or usual place or work. Truly unique in its aesthetics as well as mechanics, the Sky-Dweller is perfect for the frequent traveller, reminding him of you when he's miles (and time zones) away from home.
Rolex Explorer II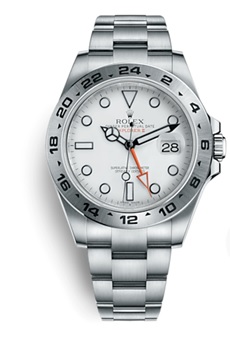 True to its name, the Rolex Explorer II is ideal for the man who doesn't fear stepping out of his comfort zone. Its rugged, robust and reliable nature has accorded it a top position in our list of all time favourite watches. The resilient Oyster bracelet straps in the easily readable white dial, which is further equipped with a 24-hour bezel to read time in 24 hours as opposed to the usual 12 hours.
All in all, a Rolex watch is the perfect compliment to your man's classy, bold and sophisticated personality. Pick a piece that truly reflects his character and elevates his charisma to give your relationship a brand new touch of love.