You've recently launched the Blossoms collection. What was the inspiration behind it?
My own wedding headpiece actually inspired the Blossoms collection.  My wedding day style was natural, romantic and bohemian, so I designed a hair vine full of lace, silk and mother of pearl flowers in subtle shades of ivory, blush and coffee to complement my dress.
As a result, the 'Rosie' wedding hair vine was the first piece I created for the Blossoms collection. I continued to work with mother of pearl flowers, freshwater pearls and Swarovski crystals throughout the collection.
Many designs have a bohemian vibe and hair vines feature heavily, but I have also included a more traditional tiara, statement side tiaras and pretty combs and pins for brides who aren't necessarily looking for an overtly bohemian headpiece.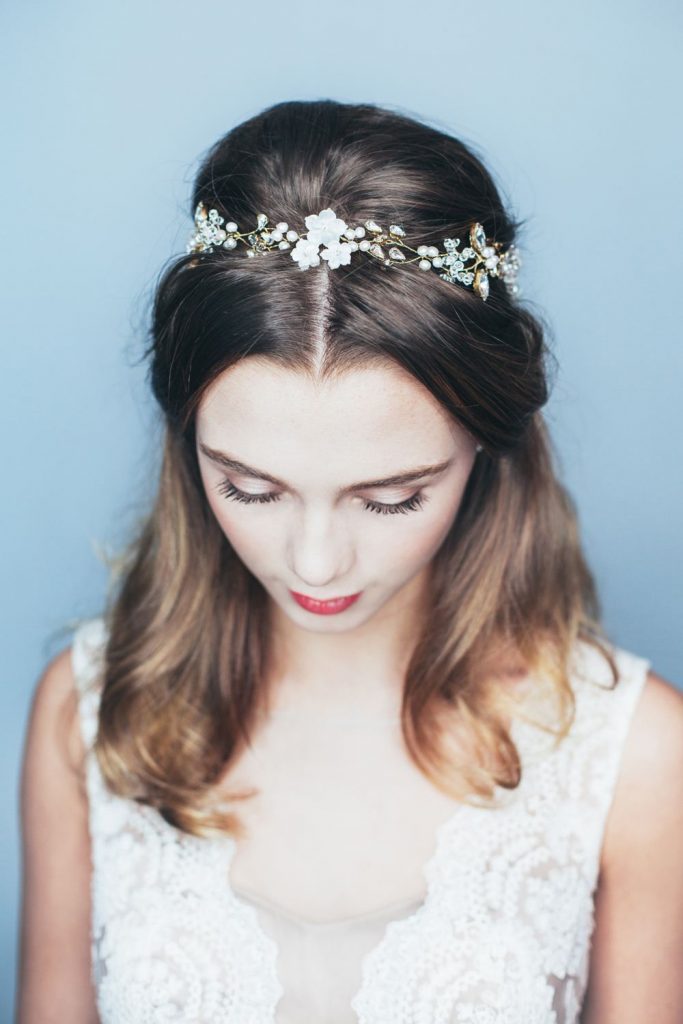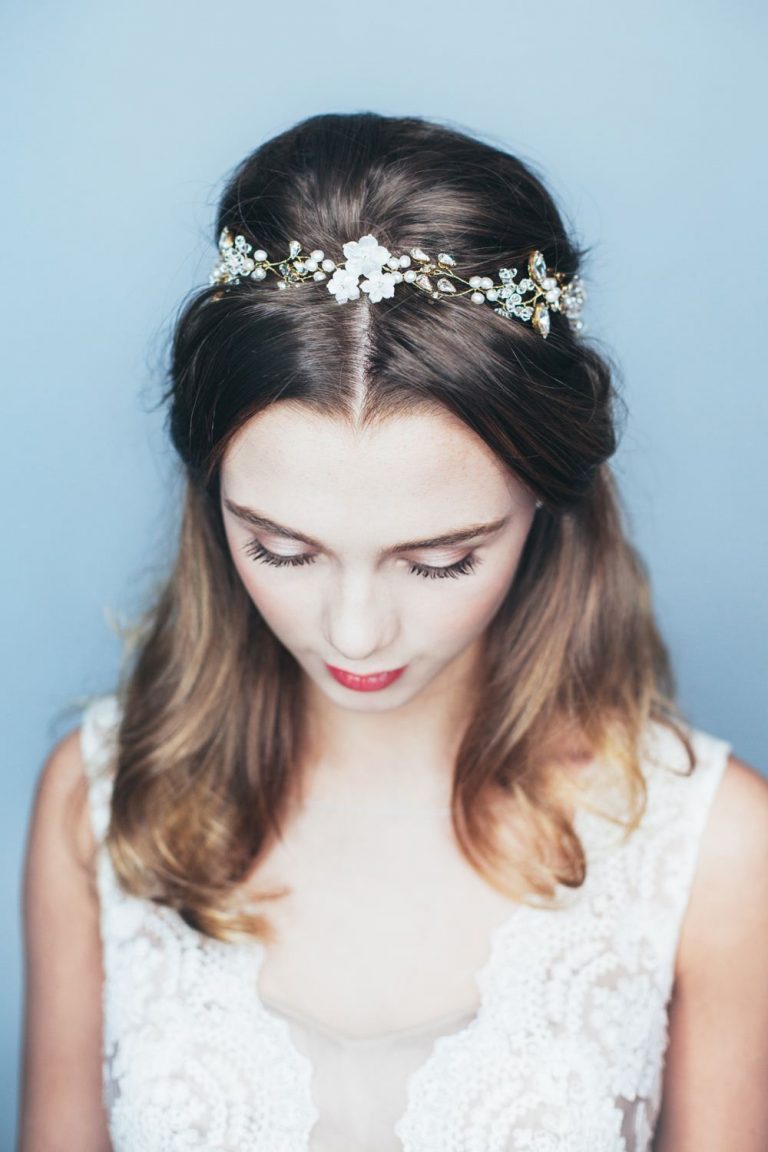 What was it like creating your own wedding hairpiece?
Being a wedding headpiece designer, I knew all eyes would be on my headpiece on the day. I knew I had to create something quite spectacular but didn't want it to look too flamboyant as that's not my style.
My hair vine was secured with a comb covered in flowers, so most of the detail was at the back of the headpiece.  The vine section was more subtle, with delicate Swarovski crystal, freshwater pearl and scattered flowers. The soft colours also ensured that the piece was eye-catching in a pretty way rather than being too 'bling'.  I received so many compliments on my headpiece from friends and family and it was the perfect accessory for my wedding dress.
What is your favourite headpiece from the collection and why?
Of course, I've got a soft spot for the 'Rosie' headpiece but I also love our best-selling Georgia hair vine, which was created for Georgia Jones, model and wife of McFly's Danny Jones. It has a beautiful sparkle and brides love how delicate it is. The Aster hair vine is another firm favourite for me, as it's made with Swarovski crystal to form leaf shapes, so it has quite a Grecian look.
Incorporating the natural shapes of plants and vines, this collection has a distinct boho-vibe. Do you think brides are becoming more laidback and fashion-led? How have bridal headpiece trends changed over the years?
Nowadays, brides are much more experimental with their wedding day style. When I first started designing wedding headpieces, most brides were favouring traditional tiaras and didn't always feel brave enough to wear some of my more contemporary designs. However, I think brides now have much wider access to inspiration from blogs and social media, particularly Pinterest and Instagram.  They are more open to new ideas and embracing their own style, rather than following an idea of what they think a bride should look like. Relaxed bohemian hair styles have become increasingly popular, so the Blossoms collection offers beautiful hair accessories to complement this look.
What advice would you give to brides who are looking for their perfect hairpiece? Any tips for choosing?
The style of your dress, the theme of the day and potential hair style ideas are important considerations when choosing a headpiece. If you can't find what you're looking for within the collection, we welcome enquiries for bespoke headpieces so that we can create your perfect design.
Explore www.rosiewillettdesigns.co.uk for the perfect bridal headband for your big day!
The brand also has a stylish range of personalised wedding date bags, T shirts, sweatshirts and more, ideal for gifts. To find out more visit here.
Organising your wedding on a budget? Visit Rosie Willett's sample sale and save up to 50% on selected products.