One of the major advantages of Montreal is a huge selection of places to eat. Most likely, a wide range of Montreal's culinary establishments is explained by multicultural population of the city. That's why local cafes, restaurants and bars offer dishes of French and European cuisine, an American cuisine, as well as Oriental culinary specialties. In short, the choice of Montreal's places to eat can confuse even the most experienced gourmets.
So, we've prepared a brief tour around the best establishments of the city, which will help you to choose the most suitable spot for your dinner in Montreal…
Le Filet
Specializing mainly in French cuisine, Le Filet is one of the most prestigious Montreal's establishments with open air terrace. It features glam interior and also offers creative seafood-focused sets. Tasty dishes and excellent wines imported from around the world will transform an ordinary dinner into a real celebration.
Le Filet is a perfect spot for any event. There's a good food and impeccable service. Do not miss to taste an oyster miso.
Address: 219, ave. Mont-Royal Ouest
Coordinates: 45.518046, -73.588563
Operating Hours: Tuesday-Saturday 5.45pm-11pm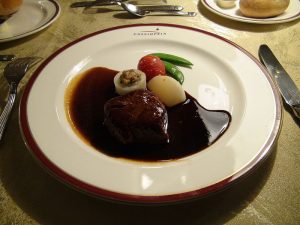 Le Bremner
Le Bremner Restaurant is the best place to get acquainted with the peculiarities of the national cuisine, because all popular Canadian dishes are cooked according to the classic recipes. Among the most popular specialties of the establishment is Prosciutto e Melone – sliced cured meat served with melon. Gourmets should definitely taste Carpaccio di Vitello – raw beef slices seasoned with olive oil and herbs, this dish is usually served with fresh vegetables. Those who like classical dishes can enjoy Antipasto le Bremner – a huge plate with slices of meat, seafood and fresh vegetables.
Address: 361 Rue Saint Paul E
Coordinates: 45.509339, -73.551662
Operating Hours: Monday-Saturday 6pm-11pm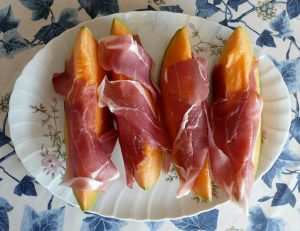 Graziella Ristorante
Graziella is a very attractive culinary establishment serving the amazing seasonal dishes of Italian cuisine and excellent wines. The major secret of the restaurant's popularity is that all the meals are cooked by original recipes, so each one is a unique masterpiece of Italian culinary art. Graziella's menu also includes several popular Mediterranean dishes. The establishment is suitable for organizing festive events, as well as for romantic family dinners. By the way, every evening Graziella offers an interesting entertainment program for its visitors.
Address: 116 Rue McGill
Coordinates: 45.499557, -73.555577
Operating Hours: Monday-Friday 12pm-2.30pm, 6pm-10pm; Saturday 6pm-10pm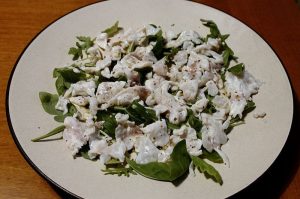 Au Pied de Cochon
Au Pied de Cochon is the must-visit destination of meat connoisseurs. The visitors can taste a huge selection of dishes of pork, beef and wild fowl. The restaurant's specialty is roasted suckling pig. However, grilled duck with herbs and onion soup are also worthy dishes served in Au Pied de Cochon. Those who prefer a more refined food should order foie gras cooked by the chef's recipe.
Address: 536 Avenue Duluth E
Coordinates: 45.522167, -73.574500
Operating Hours: Wednedsay-Sunday 5pm-12am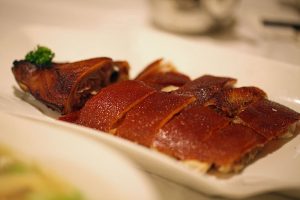 Shwartz's
Having a lunch in Schwartz's during your trip to Montreal equals to eating pizza in Italy. Schwartz's Restaurant, which is also known as the Montreal Hebrew Delicatessen is popular for its smoked meat. It was founded in 1928 by Reuben Schwartz, a Jewish immigrant from Romania. Smoked meat is served as a huge sandwich with a hefty portion of smoked meat, thin slices of rye bread and French mustard. Despite its simplicity, the dish is amazingly tasty and hearty.
Address: 3895 Boul St-Laurent
Coordinates: 45.516325, -73.577639
Operating Hours: Sunday-Thursday 8am-12.30am, Friday 8am-1.30am, Saturday 8am-2.30am
Europea
Europea is a prestigious French restaurant. Its chef Jerome Ferrer creates incredible Mediterranean dishes with Quebec accent: lobster in truffle flakes, ravioli of crab tentacles and lettuce salad with rice, a light mousse of white oils with Tahitian vanilla, fast steak from the meat of bison, carpaccio of smoked reindeer meat and crispy vegetables. Europea's menu is based on the best products of Quebec, so don't miss an opportunity to try it.
Address: 1227 Rue de la Montagne
Coordinates: 45.497696, -73.574154
Operating Hours: Tuesday-Friday 12pm-1.30pm, 6pm-9.30pm; Saturday-Monday 6pm-9.30pm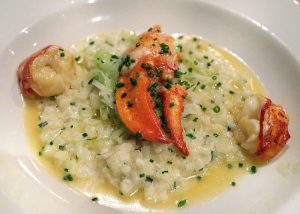 Toque
Toque restaurant is a superb and stylish spot with excellent food. It offers a wide selection of first courses, meat dishes and delicious desserts of French and local cuisine. Among the most popular restaurant's dishes are foie gras with poached eggs and mushrooms, veal steak with raspberry sauce and lamb with artichoke. Toqué is definitely worthy place, despite the fact that the prices are slightly higher than elsewhere.
Address: 900 Place Jean-Paul-Riopelle
Coordinates: 45.502880, -73.561163
Operating Hours: Tuesday-Friday 11.30am-1.45pm, 5.30pm-10pm; Saturday-Monday 5.30pm-10pm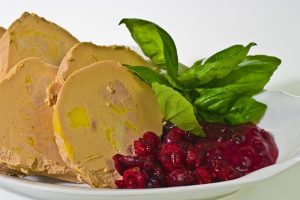 As you can see, culinary establishments of Montreal are diverse. You'll find there both cozy small cafes offering tasty sandwiches and prestigious restaurants allowing you thus to enjoy the most refined dishes of international cuisine. So, you can choose your favorite spot to eat according to your tastes and budget.
Want to find the desired destination quickly? Just rent a car at Montreal Airport, set GPS-coordinates into car's navigational device, and go!