Embroidery is one of the biggest fashion trends right now. These beautiful decorative details can be seen in all sizes and shapes on basically any piece of clothing and any fabric. Accessories are part of the trend too – embroidered handbags, wallets, belts and shoes are having a moment right now.
If you want to stand out and add a touch of style to your outfit, embroidery will do the trick! Investing in an embroidered jacket is totally worth it because you can combine it with almost everything in your wardrobe. It's the perfect statement piece to complement your outfit and instantly turn your casual look into a fashionable one.
There are plenty of embroidered jackets you can choose from: moto, denim, bomber, oversized, leather, etc. and they all provide some creative ways of styling.
1) Chic look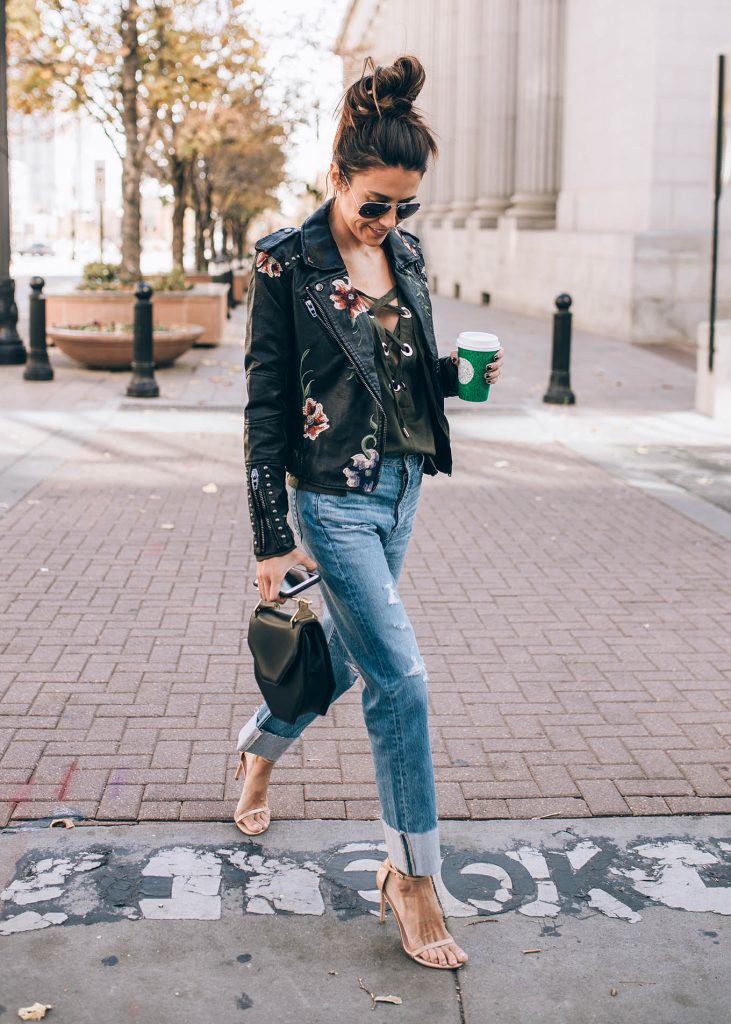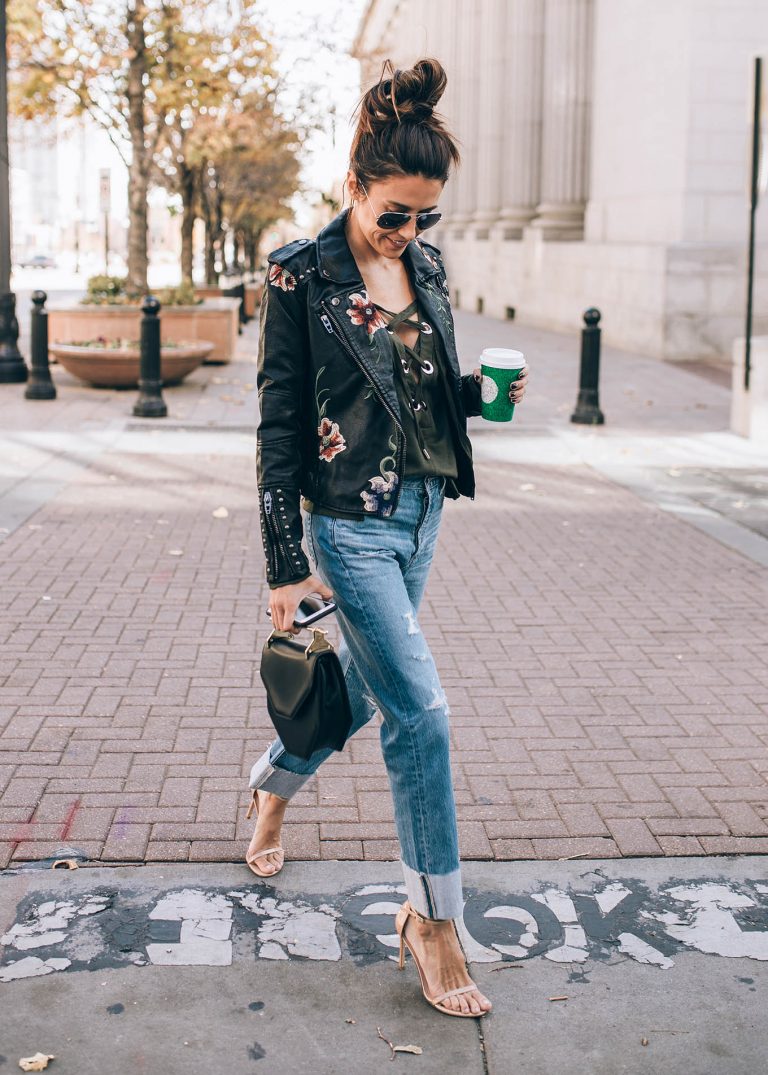 Source: hellofashionblog.com
Everything about this outfit is so trendy! The single color lace-up sweatshirt is a must-have right now, as well as the straight-leg jeans with a high rise and raw hams. The nude sandals are a timeless piece that goes well with pretty much any clothing. All of these pieces, complemented with this stunning black embroidered leather jacket create an effortless, chic look.
2) All black outfit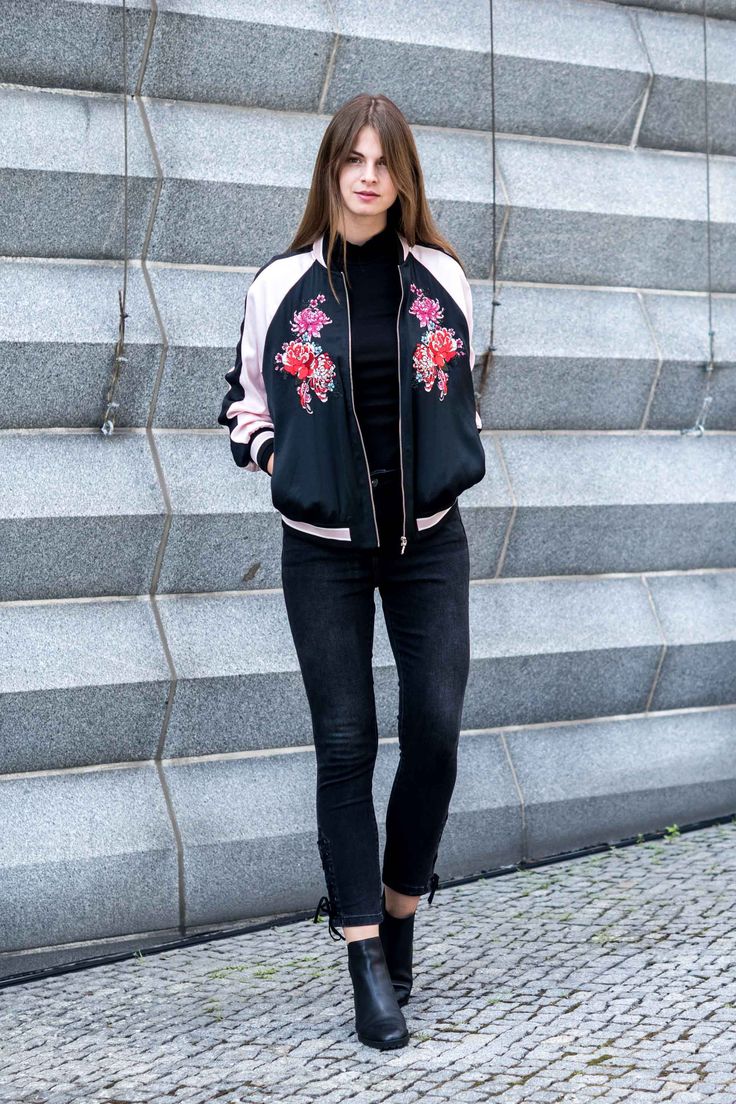 Source: whaelse.com
The simplest, easiest way to achieve a stylish look is by throwing on a colorful trendy piece to your all black outfit. Bomber jackets have been around for a while now and the embroidered ones are just so beautiful! The blush pink satin and floral details on this one are perfect for adding a pop of color to the all – black clothing. The simplicity of that black turtleneck, jeans and black boots combined with this embroidered bomber create a comfortable, yet fashionable everyday outfit.
Тo achieve an even more rocker-chick look, make sure you straighten your hair nicely and take a great care for it. Maintaining your hair healthy and making sure it looks perfectly can be tricky, especially considering the pollution, our erratic lifestyle, and bad food habits. But the dream of having an amazing and shiny hair isn't impossible to achieve, you just need to know the right things to do and the best hair vitamins to use. For more info, read Sugar Bear Hair review.
3) Elegant embroidery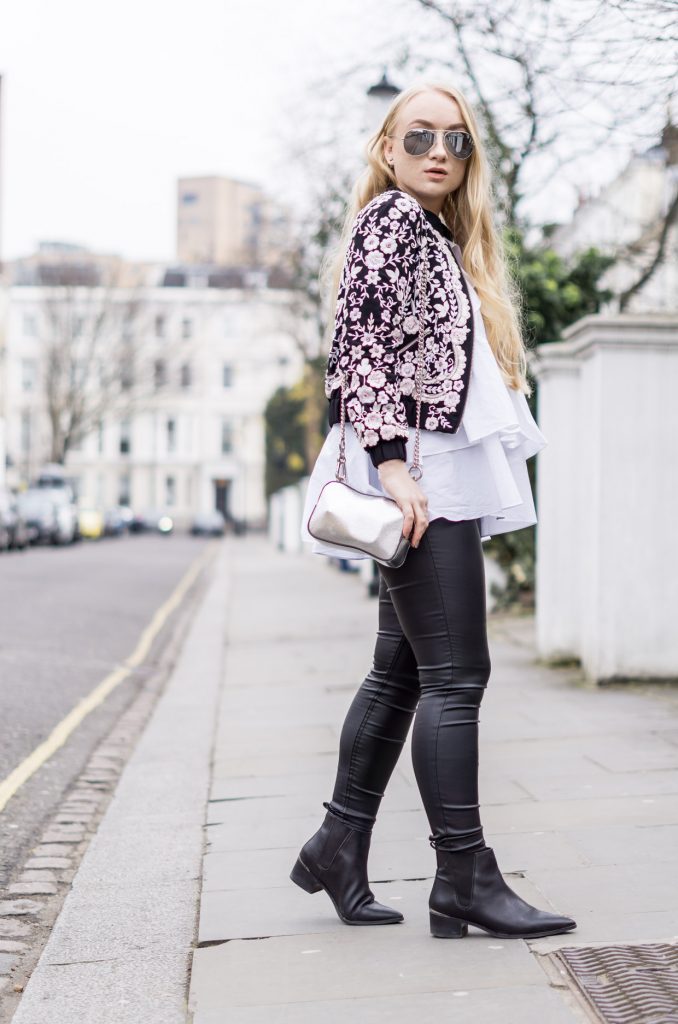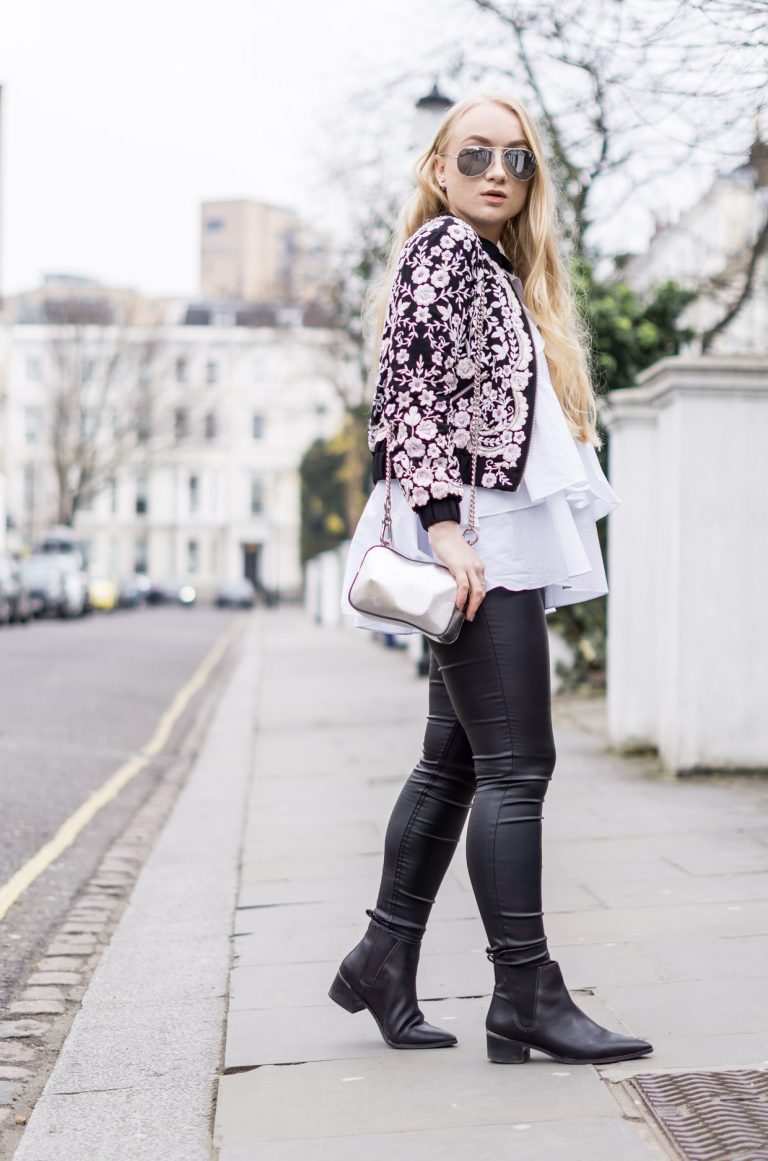 Source: stylepetal.co.uk
Bomber jackets usually give out a sporty vibe, but this piece is all about elegance. Paired with a white frilly shirt, black leather trousers and ankle boots, this beautifully detailed embroidered jacket is the statement piece you need to create an elegant, feminine look. The hint of metallic that shines from the shoulder purse adds some more glam to the outfit and goes so well with the jacket!
4) Embroidered jacket x midi skirt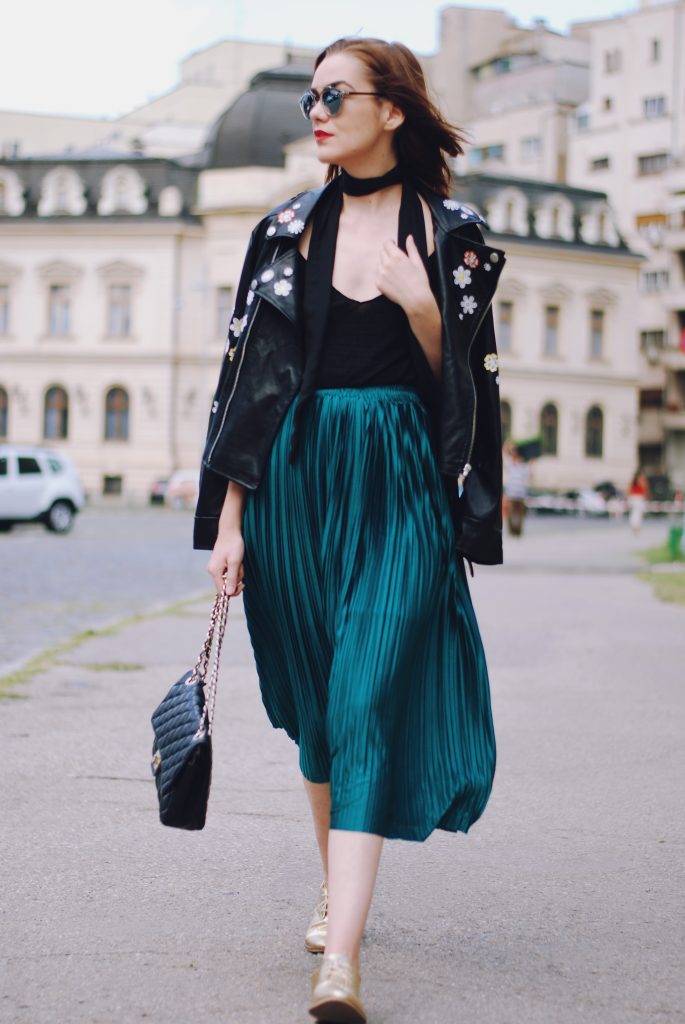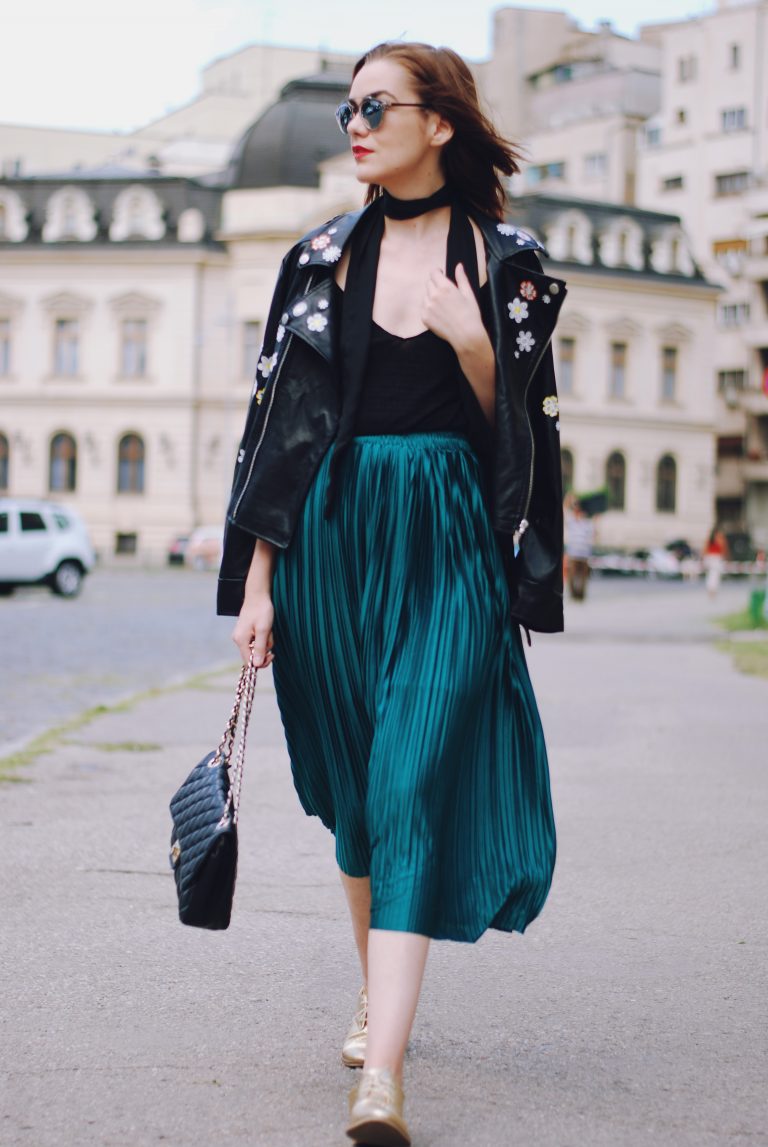 Source: couturezilla.com
Pleated skirts are another piece of clothing that you can mix and match with every outfit. If you already have one of these beauties in your wardrobe, you should definitely try pairing it with some embroidery. The cute embroidered daisies on this leather jacket give off a 90's vibe, and that emerald midi skirt combined with a pair of metallic oxfords creates a fun, edgy outfit.
5) Double denim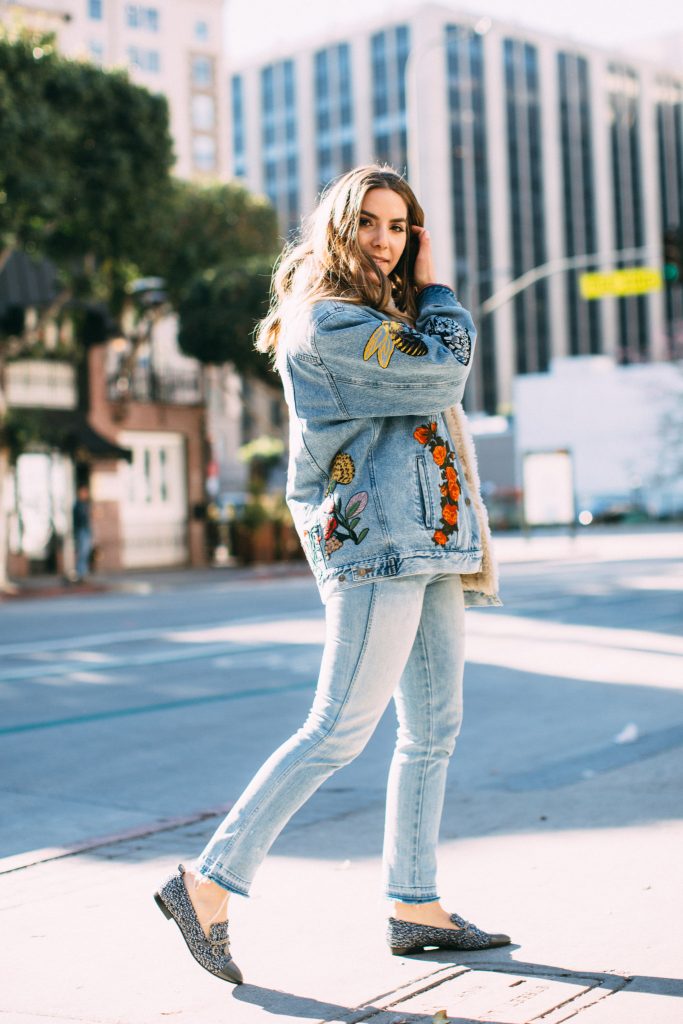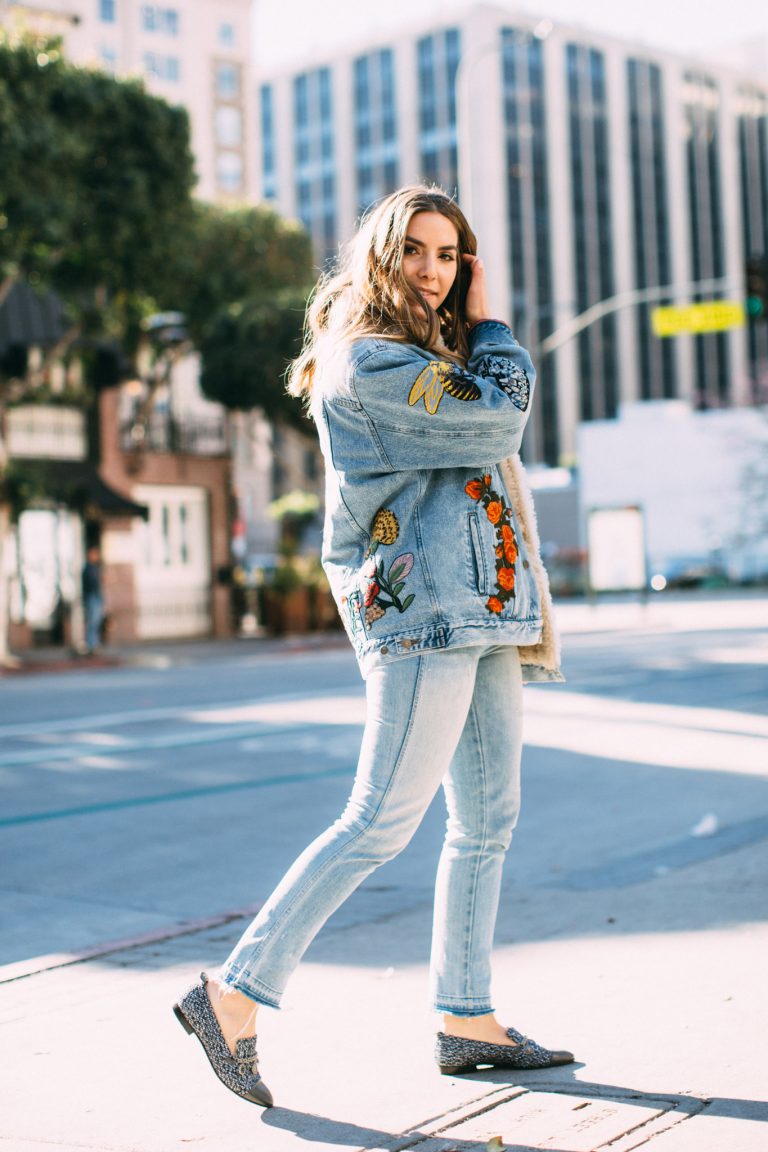 Source: stylebythepeople.com
The trend of wearing denim on denim is back again, and this look just screams 90's! Combining denim jeans and a denim jacket can be a little tricky, so to avoid looking like Spears and Timberland back in the day, you need to add a pop of color and texture to your all denim outfit. An oversized embroidered jacket will do the trick, as well as pairing different shades of blue. To finish off the look, add a statement piece like a unique pair of flats or a colorful purse.
_____________________________________________________________________________________________________________________
Author Bio: Ana Arsovska is a beauty blogger, makeup lover and a skin care enthusiast. When she's not creating DIY projects and sharing makeup reviews online, she writes about fashion and style and is a regular contributor on Fashion Corner Net.